Medhufushi Island Resort: Doing Maldives The RCI Way
For about a decade, I've been a member of Club Mahindra and RCI. For a number of years, till my child turned 18, these were the safest, most family-friendly options for a single mom vacationing with a small child.
The Maldives has been on my bucket list for a number of years but was always out of reach – a luxury and honeymoon destination that I thought I would never be able to access. So when RCI announced that it had included the Maldives in its list of resorts, I jumped at the chance to go.
Booking was easy. Choosing the food package, less so. We paid for the full-board package plus sea-plane journey before we left, through a Sri-Lankan company called Southern Hospitality, and took our first steps outside India via Colombo to Male.
Since the Maldives is one of the countries where Indians get a visa on arrival, the immigration process was a breeze. From Male, we were transferred to the TransMaldivian Airlines (TMA) Terminal. However, Cyclone Ockhi decided to make landfall just then and all flights were cancelled due to bad weather.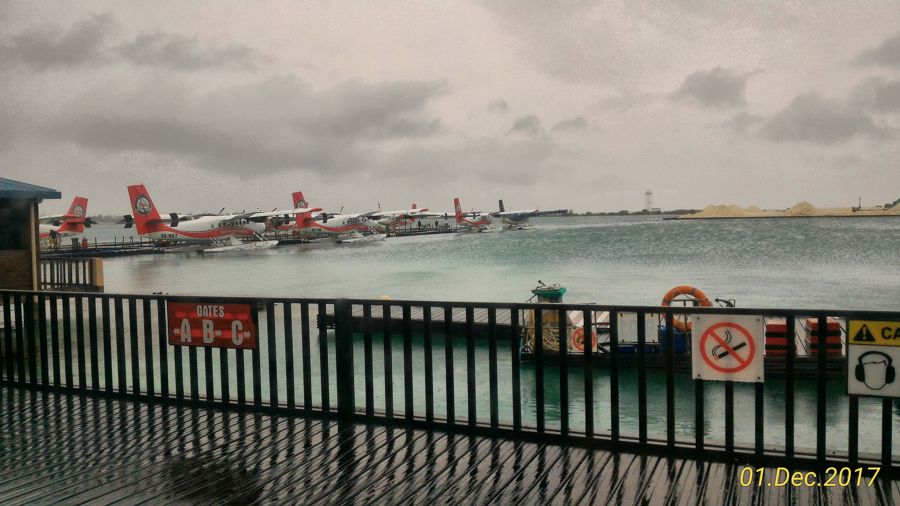 Exhausted from our journey from Pune to Male, we retired for the night to the Octave Hotel in Male City, hoping the weather would improve the next morning. I was so exhausted, my feet were cramping up and I had to immerse them in hot water to get some relief.
The staff at the Octave Hotel were very friendly and helpful and our tour operator made sure we were well-taken care of. The room service was also excellent. I treated myself to some jumbo prawns before bed and they were delicious.
Thankfully, the next morning was relatively calm and we managed to take off to our destination, Medhufushi Island Resort. The sea-plane journey was a bit stomach-churning, but the sights of the numerous little coral atolls from the air was quite lovely.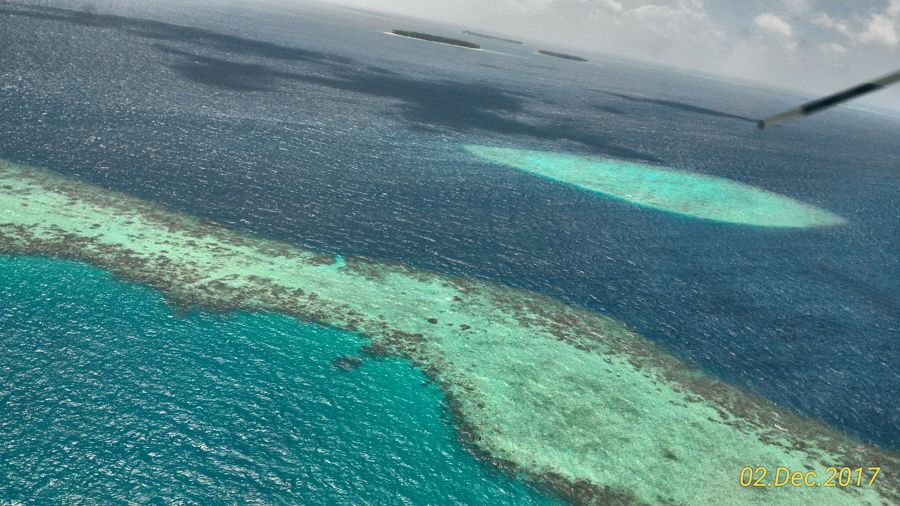 Medhufushi Island Resort is truly a tropical paradise, one of those picture-perfect little islands that you see in brochures and wish you could go to. You can get beautiful photos with just a mobile device. No filters required. 🙂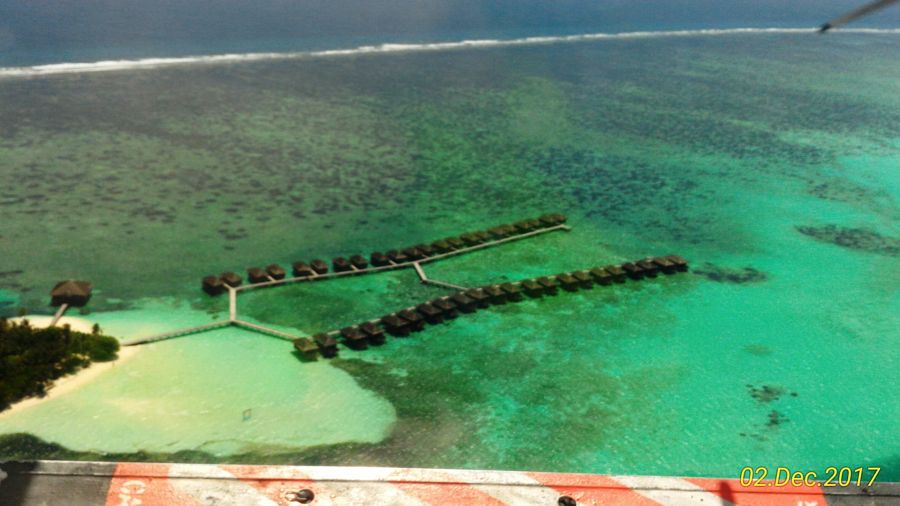 We had booked a water villa, one of the little rooms on stilts that fan out into the sea.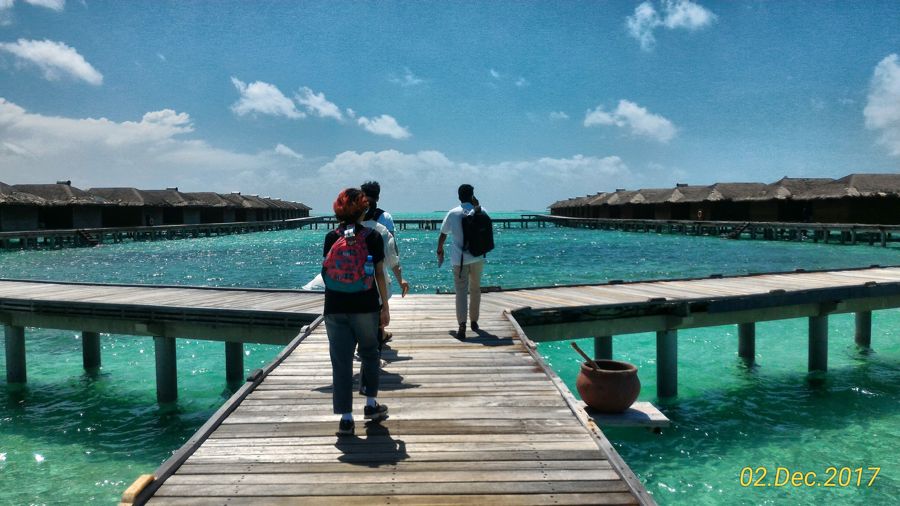 The view from the room, of turquoise seas and ocean waves, was unreal. It felt like we'd entered another world altogether.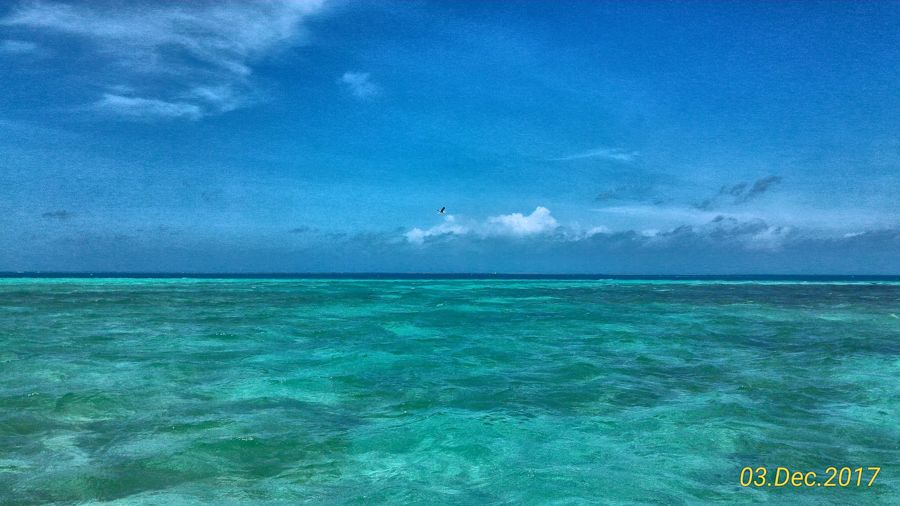 Our first day was relatively dry, with the cyclone seeming to have taken a break. We spent most of it exploring the beach and enjoying the excellent buffet.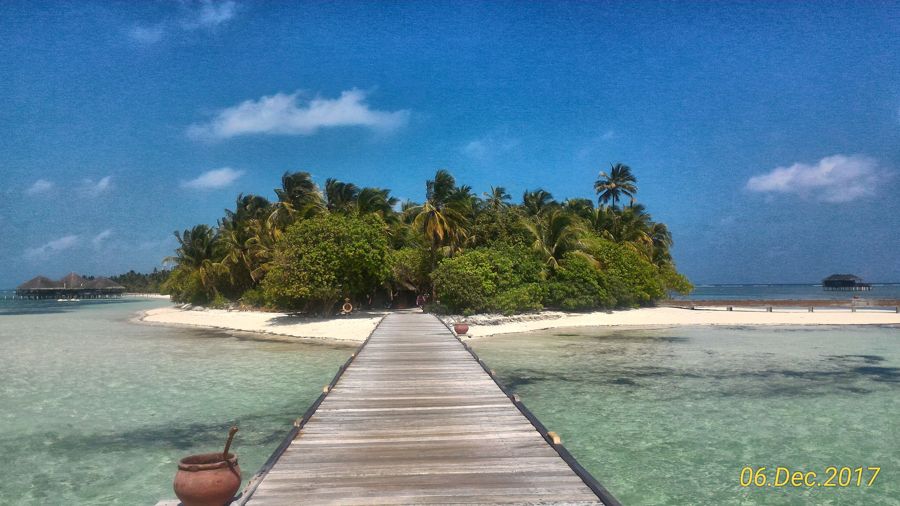 Maldivians make a living through fishing and tourism. Most of the staff in the resort are from Bangladesh and good with fish preparations.
The fish and vegetarian curries were excellent and, surprisingly, so was the Continental food. The sushi and sashimi were not as well-prepared. However, we were spoiled for choice and had no complaints.
We decided to upgrade to the all-inclusive package, which included unlimited drinks, two bottles of drinking water a day in the rooms, and a couple of free excursions. Mr. Kishore, the guest relations manager, was a great help in explaining all the options available and the ones we would benefit from most.
Because Medhufushi Island Resort is just that – an island – fresh water is scarce. The resort has a desalination unit so that they can create the copious amounts of fresh water their guests require.
Being an eco-conscious tourist, I also asked how the (not inconsiderable) garbage generated on the resort was dealt with. I was told that it is sent to another island,  where part of it is incinerated and the rest is exported for recycling. Hmm, that didn't sound great.
I could see many opportunities where they could just create less garbage in the first place, especially in the use of plastic straws and giving away plastic bags in the gift shop. But a luxury resort is less likely to change its wasteful ways than one that promotes itself as eco-friendly.
Here are some travel tips if you plan a trip to the Maldives:
1. The Maldives is a Muslim country.
While they prefer that you dress conservatively, especially in Male, on the island resorts all bets are off. There are even a few adult-only resorts. I tend to prefer the family-friendly ones that RCI is well-known for.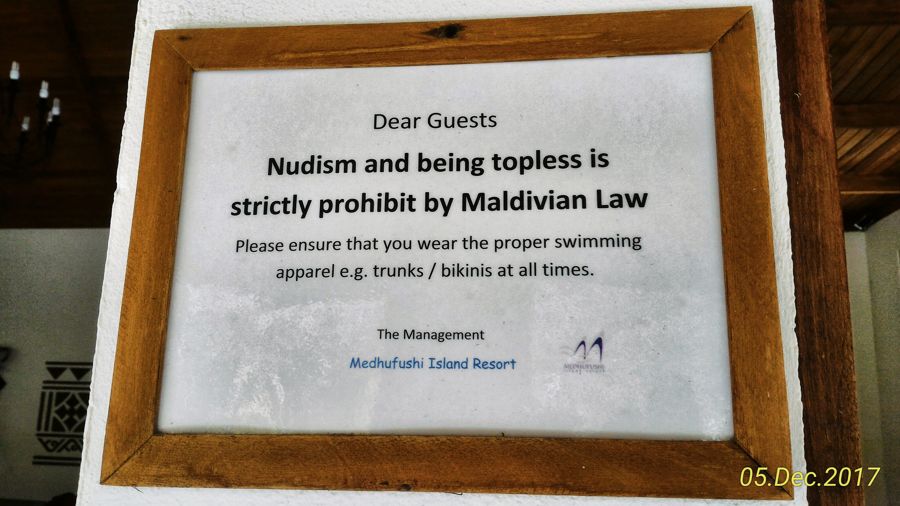 Some things, like idols and pork, are prohibited here. The bacon is made with beef. (No, I didn't try it. I don't eat beef or pork).
2. American currency is good here.
While the local currency is accepted, US dollars are preferred. All prices are quoted in USD. Please don't bother carrying Indian rupees.
3. The Maldivian capital, Malé, is like a suburb of Mumbai.
Despite the brochures, don't fall for the Malé tour spiel. It's like a section of Andheri and even smaller. If we weren't stranded by bad weather, we would have avoided it altogether.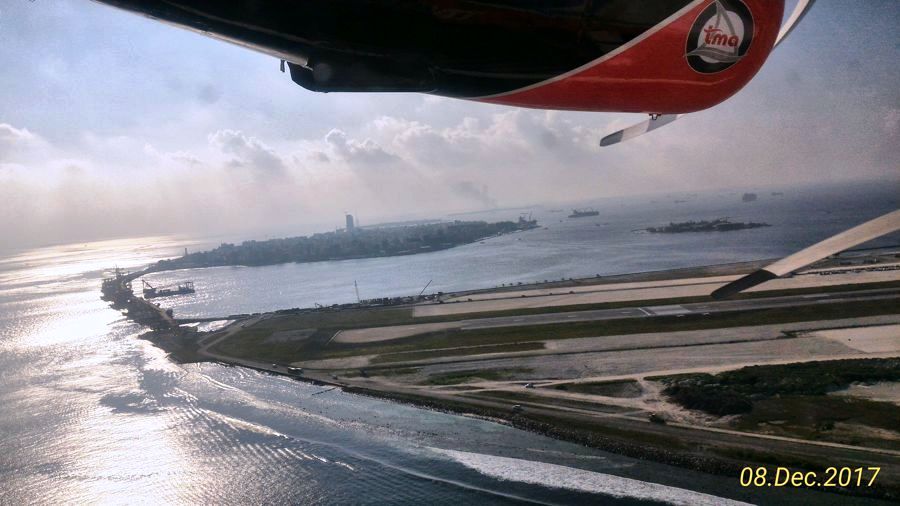 That said, it depends on what you like to do. If you like cities, by all means explore Malé. I, however, loathe cities and long to be as far away from civilization as possible.
4. If you're newly married, this is Heaven.
It's worth noting how popular the resort is with newly-weds. We saw a number of brides posing for photo-ops in their wedding regalia.
Also, you'll see a number of these little mementoes that couples like to leave behind. Very cute!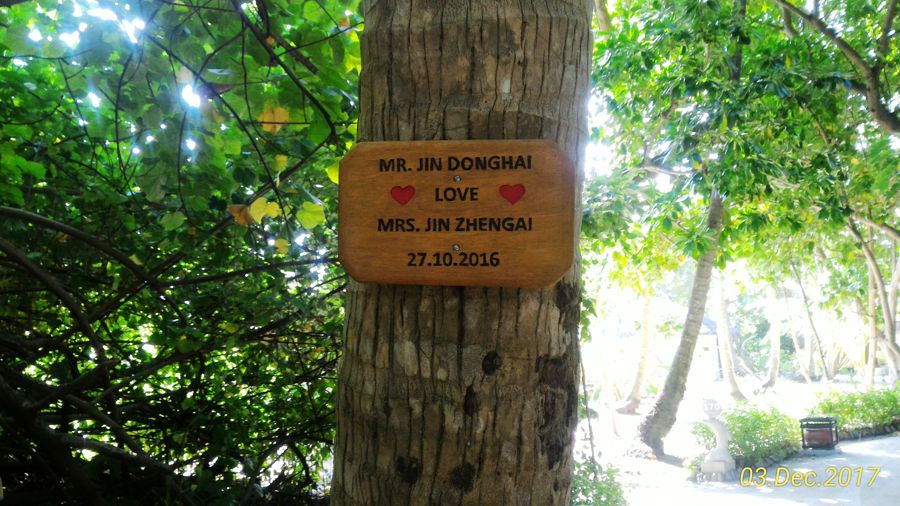 5. So. Many. Chinese. People.
The Maldives seems to be very popular with Chinese tourists. There were so many of them, mostly newly-weds, posing in their wedding dresses and everything.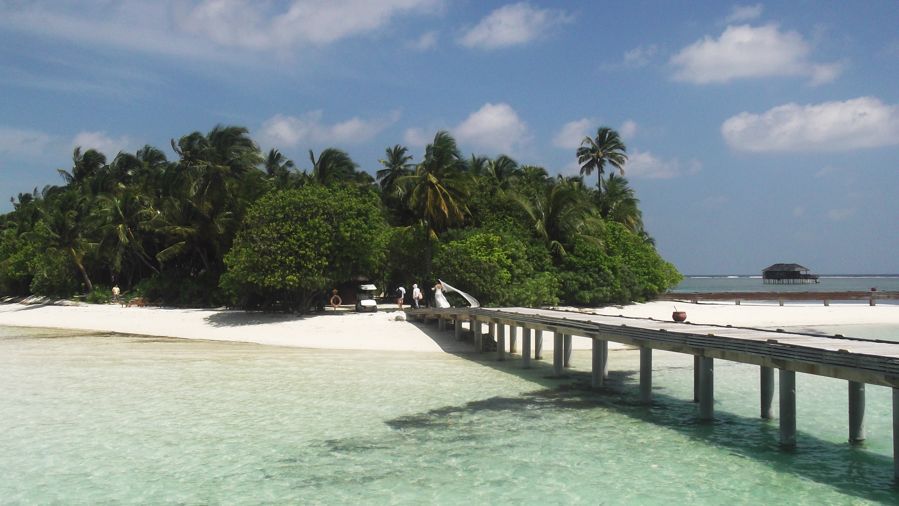 Not that I have any complaints – they are very well-behaved people. We even made friends with a very nice guy called Nate, who spoke a little English. Most of them don't speak any English, but I did see one of them using a translation app to talk to their guide at the airport.
6. The best time to visit the Maldives.
According to the brochures, it's December to April. Barring a cyclone or two, the climate should be beautiful. Cyclone Ockhi made landfall while we were on the island, giving us a couple of days of torrential rains.
When not cloudy and windy, it's hot and humid, rather like Mumbai weather. Carry plenty of sunblock and apply it liberally, especially if, like me, you tend to get sunburnt.
7. It's a haven for snorkelers and divers.
Despite the widespread coral bleaching due to the El Nino event in 1998, it's still a snorkelers and diver's paradise. There are many spots where you can watch amazing sea life in the crystal-clear waters. We saw this sting ray close to our room.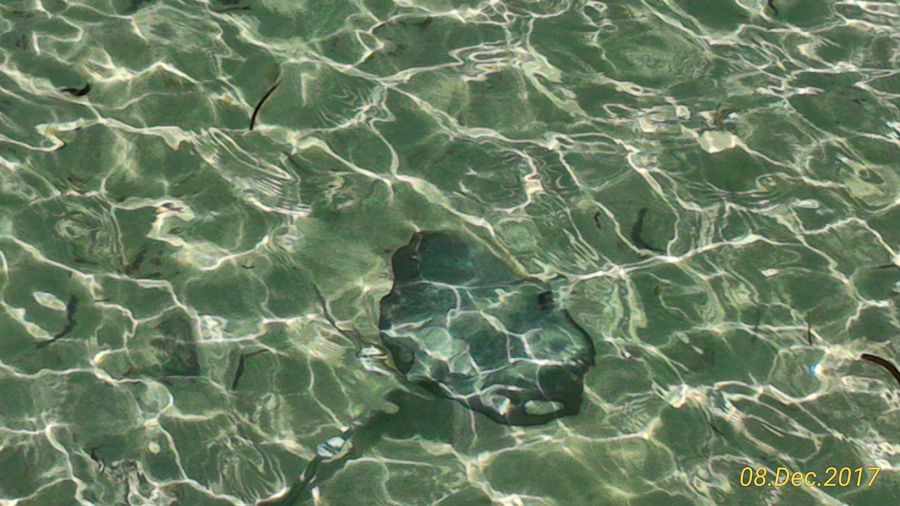 We went snorkelling, line fishing and saw glowing flying fish and spots of bioluminescence in the water (a bit reminiscent of this scene from Life of Pi). Apparently, the Maldives is one of the best places to spot bioluminescence on the planet.
If you catch fish during your line fishing trip, the chef will cook it for you as per your preference. We caught a grouper and red snapper, so the cook grilled it for us with some garlic butter. For Indians like us, used to spicier fare, it was a bit bland.
8. Carry a good camera.
The Maldives is so beautiful that even a decent mobile phone will give you great photos like it did for me. Unfortunately, I could not take underwater and night photos so it might be worth carrying a better camera for that.
Many of the Chinese tourists had little waterproof mobile pouch covers in which they put their mobile phones for underwater photos. I truly regretted not buying one before I came. Live and learn.
9. Be an eco-conscious tourist.
The Maldives is an eco-sensitive zone, and sadly, are not immune to the deluge of plastic that's destroying our oceans. We did see a considerable amount of plastic waste washed up on the beach.
Please don't add to it by throwing garbage in the water, or on the beach, where it can wash out to sea. You'll end up harming sea life and making these beautiful islands less attractive.
I hope you enjoy your trip. Yes, you'll be sad to leave, but who can complain when you have a departure lounge that looks like this. 🙂
Our Maldives trip cost us around 2.5 lakhs (around US$4000), which wasn't exactly cheap, but we did get to stay in a water villa for a week (which can cost over US$500 a day if you book through Booking.com), and RCI made it that much cheaper for us.
The sea-plane and the food were our primary expenses, but it was my first foreign trip with my child and I wanted us to have a great experience.
Since I came back, I've been researching ways to do the Maldives even cheaper. Lauren Juliff has an excellent guide on travelling to the Maldives on a budget. Check it out if you're willing to forego the water villa experience (which was breathtaking, and one I'll remember for a lifetime).
Check out the video below with some of our favourite moments from our trip.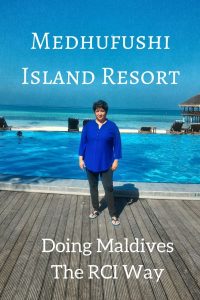 All images and videos are © Priya Florence Shah